Outdoor Gourmet:These hills are made for glamping with Baylies by your side.
Posted by Baylies Delights on 8 October 2015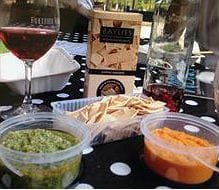 Baylies Dipping Cracker served with dips and a glass of Adelaide Hill Rose is the local choice for outdoor glamping!
Spring has arrived in the Adelaide Hills and makes the perfect destination for your next glamping or picnic adventure.
or
Outdoor concert or evening at the beach, just got a whole lot more gourmet thanks to some clever packaging devised by our French-trained, Adelaide Hills based chef, Robert Bell.
Robert is not one for roughing it too much, so he's made sure the Baylies range of Lavash comes in a ready-to-serve tray so you don't have to lower your gourmet standards when eating away from home.
Packaged into trays, there is no need to take extra plates, simply serve the lavash in the tray with your favourite picnic hamper or platter of choice.
Baylies offer four flavours to choose from; Rosemary, Pepper, Plain Lavash
or
Baylies Dipping Crackers
'Just dip and eat'
Let us know your favourite Baylies lavash and dip combination on our Facebook page and we will post these ideas on our page.