Baylies Premium Biscuits
Posted by Baylies Delights on 5 February 2021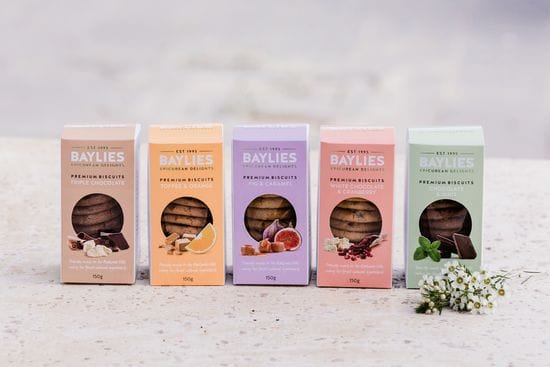 Baylies is continuously working to build on and develop our product range to keep up with moving trends and ensure our offering remains fresh.

In September of 2020 Baylies launched a brand-new biscuit range with five incredible new flavours:

- White Chocolate & Cranberry
- Fig & Caramel
- Triple Chocolate
- Chocolate & Mint and
- Toffee & Orange

These biscuits come in beautifully designed, brightly coloured, 150g size boxes. Their design and flavouring make them suitable for both the retail and gifting range Baylies offers.

The biscuits have seen incredible popularity since their launch with all flavours selling out weekly.

With the new flavours seeing such popularity, they were launched in to our 60g single-serve catering style biscuits in October 2020, with this range seeing equal popularity.

The new biscuits flavours have proven to be a step in the right direction for Baylies with the fresh modern take on a classic biscuit recipe. The range uses only the finest real ingredients to provide that authentic, home-made style biscuit.

You can find the new range at Foodland, Drakes & IGA stores across South Australia & select independent grocers and boutique retailers.